who we are
[custom_element element="div" css_class="custom_img" inner_wrapper="false"]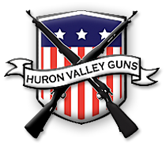 A Gun Store for Gun Enthusiasts - Hunters - Collectors - First-time Buyers
At Huron Valley Guns, our goal is to provide gun and hunting enthusiasts with high quality products and knowledgeable service.  It is our mission to go out of our way to help you find exactly what you are looking for, that fits your level of experience, at affordable prices.
We carry a wide range of firearms, from $200 entry level revolvers to $7,000 custom Ed Browns. With a wide variety of .22's, shotguns, hunting rifles, tasers (now legal), assault rifles, home defense firearms, and military collectibles from 1860 and newer.  We also have all types of cleaning supplies, scopes, cases, and more.
We also accept used guns as trade-ins, buy them outright, or take them in on consignment.
[/custom_element]
why choose us?
1.
We are a full-line gun store
We carry a full line of high quality firearms to meet your needs, whether you are a hunter, or law enforcement, or for home/personal protection.
2.
Our sales staff is knowledgeable and service oriented
We can answer your questions and make recommendations that fit your needs as well as making sure the paperwork is completed correctly.
3.
Dedicated Gunsmith Services
We provide gunsmith services to make sure your gun is serviced expertly.